Professional Basement Finishing & Remodeling near Buffalo, Rochester, Niagara Falls, Fredonia
Transform your basement into a comfortable space that fits your lifestyle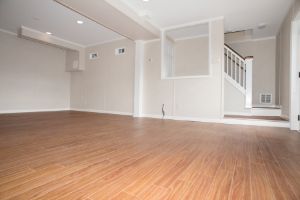 Let our experienced contractors create a beautiful, long-lasting, waterproof design for your New York basement.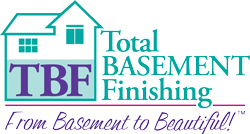 Transform your unfinished or previously finished basement into a comfortable living space with the award-winning Total Basement Finishing™ (TBF) basement remodeling system, installed by Total Basement Finishing of Western NY.
The system's wall solutions, flooring, and ceiling products are specially designed for comfort and beauty in the basement. All TBF products are warrantied to resist water, moisture, and mold; provide insulating qualities, dampen noise, and can be customized to fit your basement finishing ideas. We can build a totally functional living space in your basement or simply keep it protected against water and mold so it can be used for extra storage. No matter what you have in mind, we can give you a basement that fits your lifestyle.
We offer complete basement finishing services in Buffalo, Rochester, Niagara Falls, Fredonia and surrounding areas. Call 1-844-683-0345 to discuss your basement remodeling plan with our specialists or click below to request your free design estimate!
Love your basement with our quality products & professional installation
The TBF™ system is a complete basement remodeling solution with a wide range of basement remodeling products to choose from. It's versatile enough to work with any design idea you have in mind for the space - from a family room, to a home gym, to a wine cellar and more. The basement design ideas are endless and Total Basement Finishing of Western NY can help you find the best solution for your home.
Your basement is a unique environment, with challenges that do not appear anywhere else in the home. Obstacles such as low ceilings, utilities, and dampness are exactly what the TBF system is designed to handle. We can build in basements of all types, even if your walls are made of stone or are not straight.
Four great reasons to remodel your basement
No moisture, no mold, no problems. As a certified basement waterproofing specialist and Basement Systems contractor, we have experience providing the best moisture control techniques with moisture and mold-resistant materials designed specifically for basements. Together, this forms the ideal formula for a beautiful, long-lasting basement transformation.
Inexpensive extra space. Remodeling your basement is an excellent way to make use of the space you already have. A basement remodel adds a floor of quiet, private space for less than half the cost per square foot of building an addition (according to the 2013 Remodeling Magazine Cost vs. Value Report).
Excellent return on investment. Finishing all or part of your basement is a cost-effective way to increase the value of your house. A basement remodel ranks right up there with kitchen and bath remodeling in terms of making a home more attractive to a potential buyer.
Energy savings. Many unfinished basements have too many air leaks and too little insulation. Adding insulation and energy-efficient windows in the basement will improve your home's comfort while saving money on heating and cooling costs.
See what your basement can be with a free design consultation
If you're interested in planning and pricing for your remodeling project, we can help. We would like to offer you a free basement design quote at no obligation.
Your free quote includes all of the following:
A professional on-site basement inspection.
A design consultation with Total Basement Vision - our interactive software program.
Your basement finishing proposal, in writing and e-mailed to you or printed right away.
Our full-color 88-page book: "Basement Finishing Science."
At Total Basement Finishing of Western NY, our mission is to provide you with responsible basement finishing, at a fair price, while providing exceptional customer service. We proudly serve Henrietta, Penfield, Clarence, North Tonawanda, Jamestown, Grand Island, Lockport and many surrounding areas.